OUR PASTOR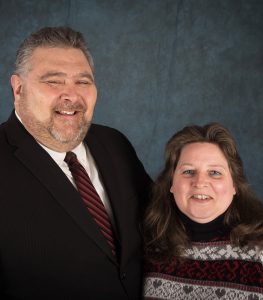 Pastor David Jett Jr. was called on December 19, 2019 to be our new pastor here at Forest Area Baptist Church. He officially took residence in Pennsylvania on December 28, 2018 and preached his first official service on December 30, 2018 as our new pastor. Pastor Jett is joined by his wife Tina.
Pastor Jett and his wife have served in many ministries ranging from youth ministry, Sunday school teachers, and Bus ministry. They both were born and grew up in the state of Maryland. They meet in 1988 and have been together since then, They have two grown children Christina, and David and have four grandchildren Kayden, Makayla, Aaliyah, and Grayson.
Pastor Jett and his wife were both saved later in life and have both been serving God since 1999. They were longtime members of Odenton Baptist Church located in Odenton, Maryland. Both Pastor Jett and Tina were baptized, and discipled at Odenton Baptist Church. Pastor Jett graduated from Odenton Baptist Bible Institute a ministry of Odenton Baptist church in 2005 and was licensed to preach in that same year. He was later ordained by Odenton Baptist Church in 2008 prior to him stepping out and taking his first pastorate in Virginia.
We at Forest Area Baptist Church are excited to have Pastor Jett and his wife Tina here. We look forward to see how God is going to use them as we continue serving Marienville and its surrounding areas. Come out and Join us and see for yourself how God is working in Forest Area Baptist Church.